The Ukrainian futsal team won the Three Nations Cup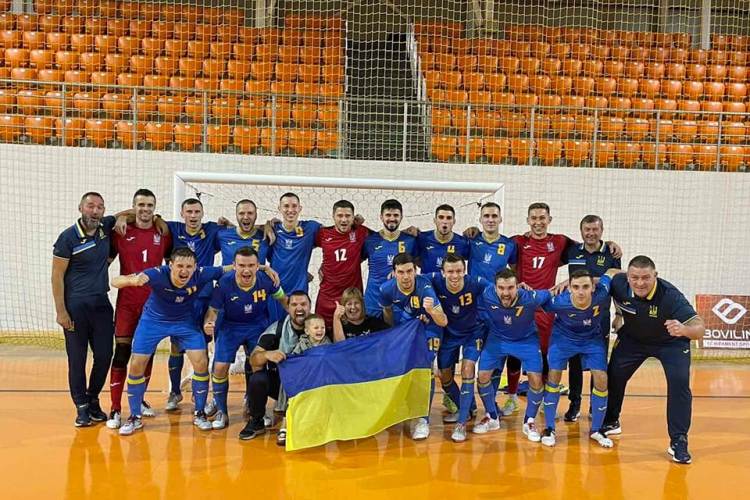 From September 12, the educational and training camp of our team continued in Choresk, Moldova, dedicated to preparation for World Cup-2024 qualifying.
Earlier, the Ukrainian futsal team held a sparring match against Moldova, in which won with a score of 6:1. Subsequently, Oleksandr Kosenko's wards again beat us hosts, but already within the friendly Cup of three nations — 7:4.
Now, the blue-yellow team met the Romanian team. Ihor Chernyavskyi opened the score in the meeting, but shortly before the break, the rivals recovered. In the second half, Daniil Abakshyn excelled as part of our team, and at the end of the match, the Romanians scored in their own goal. So, having taken the mountain with a score of 3:1, the Ukrainians became the winners of the tournament at the same time.
Three Nations Cup among national futsal teams
18.09.2022
Moldova - Ukraine - 4: 7
19.09.2022
Romania - Ukraine - 1: 3 (1: 1)
Goals: Chiresh (17) — Chernyavskyi (10), Abakshin (27), Oliveira (39, own goal).
Romania: Tonica — Hadnady, Islay, Oliveira, Manya; Lungu, Dinikutsa, Oayanya, Chiresh, Sasse, Araujo, Balint, Gavrila, Karchun, Ferreira.
Ukraine: Tsypun — Korsun, Shoturma, Zvarych, Chernyavskyi; Savenko, Sukhov, Lebid, Mykytyuk, Syriy, Abakshin, Fareniuk, Malyshko, Radevich, Melnyk.
Booked: Araujo (16), Manya (19), Hadnad (29) — Zvarych (14), Chernyavskyi (33).
20.09.2022
Moldova — Romania. 18.00
The roster of the Ukrainian national futsal team:
Goalkeepers: Kyrylo Tsypun (Piast, Poland), Oleksandr Sukhov (HIT), Yuriy Savenko (Uragan).
Outfield players: Petro Shoturma, Ihor Korsun, Daniil Abakshin, Artem Fareniuk, Mykola Mykytyuk (all "Uragan"), Mykhailo Zvarych, Serhiy Malyshko, Vitaly Radevich (all "Energy"), Yevhen Siriy, Ihor Chernyavskyi (both "HIT") , Andriy Melnyk (CLUST), Yaroslav Lebid (Cosmos, Estonia).