Students forced to reckon with them!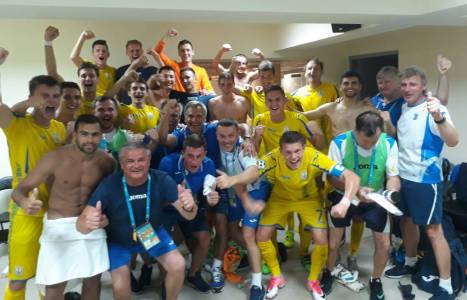 The first significant success at the World Universiade was achieved by the Ukrainian student football team in 2001 in the Chinese capital - Beijing, where it won silver medals in the fourth attempt. Before that, she was fourth twice in a row (1995 - Fukuoka (Japan) and 1997 - Palermo (Italy)), and two years later she failed at the competition in Palma de Mallorca (Spain) - 11th place .
However, after the silver takeoff in Beijing of Anatoliy Buznik's wards, our football students did not hold on to these positions. In 2003, they were only 11 in the Korean city of Daegu, and two years later they did not go to Turkish Izmir because of lack of funding.
At the 2007 World Universiade in Bangkok (Thailand), our team sensationally conquered the highest step of the podium, beating the Italians in the final - 1: 0. The best player of the tournament was the leader of the Ukrainian national team Dmytro Pronevych - the author of four goals, and the team was prepared by Volodymyr Lozynsky and Ivan Shepelenko.
The next Universiade - 2009 in Belgrade - was a jubilee, the 25th, and it is gratifying that our student footballers once again lived up to expectations, demonstrating not only a high level of training, but also iron endurance. Suffice it to say that in four matches at once they pulled out a lucky ticket in a series of post-match penalties! In the final, the rivals of Lozynsky's and Shepelenko's wards were again the Italians, who this time were forced to lay down their arms - 3: 2. The main prize went to Ukrainian Captain Anton Monakhov, who studied at the Interregional Academy of Personnel Management. Students of the same university were Andriy Bashlay, Artem Stargorodsky, Andriy Zaporozhyan, Andriy Shevchuk. Students of Ivano-Frankivsk University of Oil and Gas Ihor Khudobiak, Mykola Revutsky and Ihor Hrebynsky also became two-time champions of the Universiade.
In total, after our take-offs in Beijing, Bangkok and Belgrade, 45 of our football students became masters of international class sports.
However, at the last four Universiades Ukraine's national football team finished outside the prize three ...