On the eve of the final of the Cup of Ukraine in Zaporizhzhya awarding of participants of the football festival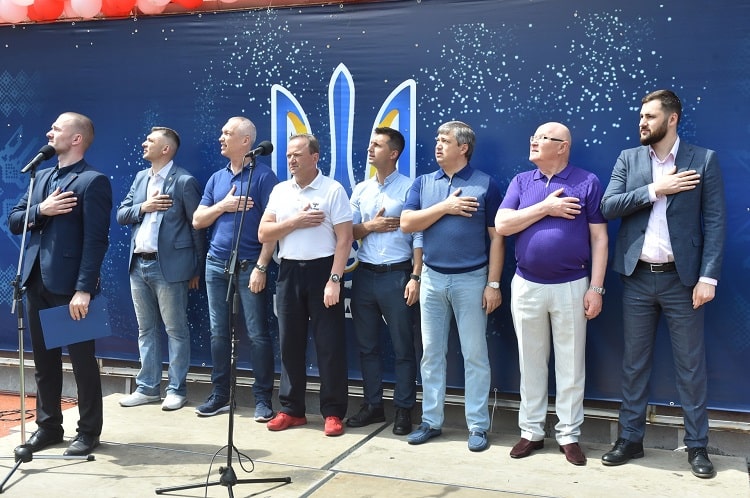 Zaporizhzhya lives football. On the eve of the final match of the Cup of Ukraine at the Slavutich-Arena took place the awarding ceremony of participants Metallurg Football Festival, dedicated to the cup final.
At the stadium, where the decisive match between Shakhtar Donetsk and Ingulets from Petrov will take place, about 200 children and adults participated in the festival.
Photo by Pavlo Kubanov
The event was attended by the first Vice-Presidents of the Football Federation of Ukraine Vadim Kostyuchenko and Oleg Protasov, the chairman of the Zaporizhzhya Regional Football Federation Viktor Mezheiko, the chairman of the Zaporizhzhya City Football Federation Vitaliy Manko, the deputy mayor of Zaporizhzhya Anatoliy Pustorgnuyu Skolugovarov Dmitry Zaporozhenko and Golden Ball winner Igor Belanov.
Photo by Pavlo Kubanov
Vadim Kostyuchenko conveyed to the participants of the festival greetings from the leadership of the FFU and the coaches of the national teams of Ukraine of all ages: "First of all, we thank your city, Zaporizhzhia for such warm hospitality and convey congratulations from the President of the FFU Andriy Pavelko and the head coach of the national team of Ukraine Andrey. This is a landmark event that we meet with you today at this stadium before the first final of the Cup of Ukraine hosted by Zaporozhye. I am sure that the future players who participated in the festival will glorify this region in the youth, youth, and then in the national team of Ukraine. We expect a big football holiday, a good concert program, competitions. The Football Federation has Zaporozhye as a reliable partner, and in the future in this wonderful arena will continue to play our national teams. I wish you the victories and successes of the same successes that Igor Belanov and Oleg Protasov had with us at this bright football festival today. "
Photo by Pavlo Kubanov
The award ceremony of the festival participants, the best players in various nominations among boys and girls in a great mood was preceded by a solemn line and the National Anthem of Ukraine. All received memorable prizes and footballs. The winners and winners of the competition were pleased to consider the bright cups that should give them motivation for future accomplishments. In addition, everyone wished to receive a ball with a personal autograph of Igor Belanov as a gift.
Photo by Pavlo Kubanov