Ukraine's national veterans team won the Ukrainian Football Legends Cup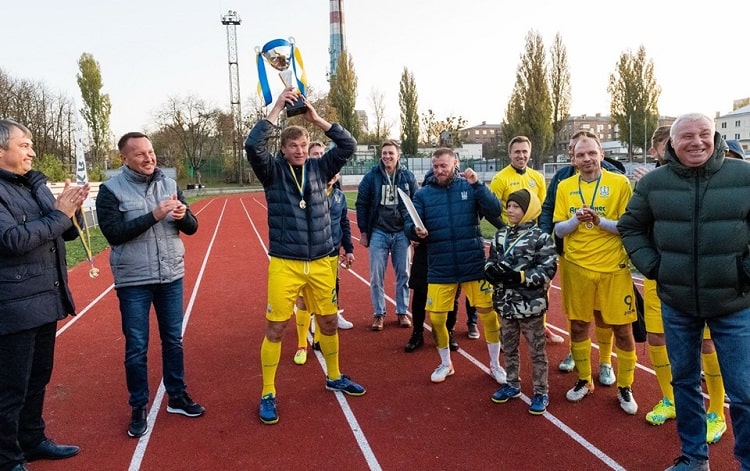 Before the match of 1/8 finals of the Cup of Ukraine-2019/2020 Dynamo vs Shakhtar the Ukrainian national team among veterans and the national team of journalists took part in a charity match for the Ukrainian Football Legends Cup.
On October 30, a charity match for the Ukrainian Football Legends Cup was held at the Temp stadium in Kiev between the Ukrainian national veterans team and the Ukrainian journalists' team. Cheerleaders from the East of Ukraine, military and ATO veterans came to cheer on the teams.
Photo of UAF press service
The organizers of the match were: Ukrainian Football Association, Agrobusiness LLC, Ukrainian Football Veterans Association, UPL and News Center news agency.
In the first half, the forces seemed even, but the situation changed after 32 minutes. The unsuccessful exit of the goalkeeper of the journalists caused the ball to be in the near corner of his goal, - Andrey Khomin noted.
Photo of UAF press service
During the break, the first vice-president of the Ukrainian Football Association Vadim Kostyuchenko presented the migrant children with soccer balls, equipment and conveyed greetings from UAF President, UEFA Executive Committee member Andrei Pavelko, as well as invitations to the matches of the national team of Ukraine.
The second half started with a quick goal by Sergey Shishchenko. And in 10 minutes, Sergei Nagornyak scored. 3: 0.
Thus, veterans of the national team played for 2016, when a friendly match between these teams at Lokomotiv Stadium ended with a score of 3: 2 in favor of journalists.
Photo of UAF press service
"I congratulate the players of the national team among the veterans with the victory. Remember, we play first and foremost for our little fans, they are our main viewers. Today the goal of the match has been achieved and the main victory went to our children, "Vadim Kostyuchenko said after the game was over.
Photo of UAF press service
Ukrainian Veterans National Team - Ukrainian Journalists' Team - 3: 0
Ukrainian national team among veterans: Vladyslav Vashchuk, Sergey Nagornyak, Oleg Sobutsky, Eduard Tsikhmeystar, Vitaliy Reva, Gennady Medvedev, Svyatoslav Sirota, Bogdan Shershun, Yuriy Maximov, Sergey Shishchenko, Vyacheslav Svidersky, Andriy Khomin, Viktor Belyansky, Andriyandiyarki Vitaliy Samoilov, Vitaliy Mandyuk, Mykola Ishchenko.
Coaches: Anatoly Demyanenko, Vladimir Lozynsky. Team President: Oleg Sobutsky.
Ukrainian Journalists' Team: Igor Tsyganik, Ivan Uzunov, Sergey Sytnik, Vadim Drobashko, Yaroslav Tvardovsky, Vladimir Shemulanskiy, Dmitry Denkov, Alexey Machusky, Vladislav Kabaniuk, Timur Samosudov, Dmitry Sarkis, Alexander Gaponenko, Bogdan Mashai.
Team President and Coach: Olga Vitak.
January 19th on the fourth by the K ...