Valery Lobanovsky's tournament. The national team of Uzbekistan defeated the team of Azerbaijan with a minimum score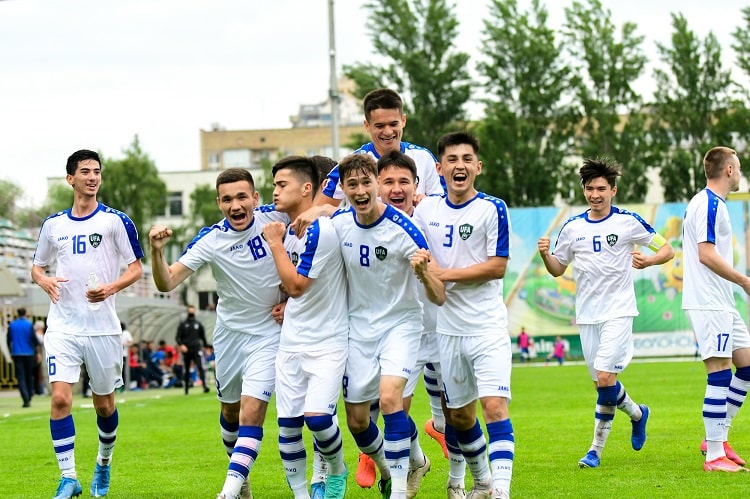 The minimal victory of the Uzbeks allows the national team of Ukraine to fight for victory in the current competition.
On the second day of the Valery Lobanovsky Tournament, the youth national team of Uzbekistan met with Azerbaijan, offender of the Ukrainian team. Milan Obradovich's wards could have won the competition today if they had beaten Uzbekistan in regular time or in a penalty shootout (according to the rules, after a draw, a series of 11-meter shots was scored in the main time, and the teams scored two points for victory and one for defeat). ). Now (given the advantage of the same number of points in personal meetings) all participants can count on winning the tournament. Ukraine will be satisfied with a victory 2: 1, 3: 2 and more. In the event of a probable 1-0 victory, Fair Play will count.
The first half was for the Uzbeks. And if the advantage of Timur Kapadze's wards was significant in possession of the ball, the Asian team completely surpassed the opponent in terms of goal moments. They would be enough for more than one match at Samigullin's goal. But most of the inaccuracies did not allow the Uzbek national team to take a break, leading in the score.
With the start of the second half, the Uzbek team went ahead again. Moments at the goal of the Azerbaijanis occurred quite often, but again on the way to the ball was a goalkeeper or the Uzbeks did not hit the goal. For example, in the 65th minute Ibragimov punched a free kick into the crossbar. But what Ibrahimov failed to do was done by Dzhaloliddinov in the 75th minute. 0: 1. All attempts of Azerbaijanis to win back were in vain. Moreover, if not for Samigullin, the score could be much higher ...
The victory of Uzbekistan kept the intrigue in the tournament until the last day of play.
Tournament Valery Lobanovsky
Azerbaijan (U-21) - Uzbekistan (U-21) - 0: 1 (0: 0)
Goal: Jaloliddinov (75).
Azerbaijan (U-21): Samigullin, Aliyev, Agjabayev (Celik, 84), Zulfugarli (Gurbanli, 61), S. Abdullazada, Rzayev (Seidov, 61), V. Jafarov, D. Jafarov (R. Abdullazada, 67), Garahmadov (Valizada, 84) , Mustafayev (Husseinli, 84), Asgerov (Elizada, 61).
Uzbekistan (U-21): Yuldashev, Mirsaidov (Begimov, 67), Tursunov (Hamidzhonov, 75), Sultanmuradov (Turdaliev, 71), Shamsiev, Ibragimov (Kholmatov, 71), Zhurakuziev (Dzhaloliddinov, 67), Abdumannonov, Norchiev, 67 75), Mamasidikov (Khoshimov, 67), Odilov (Rakhimkulov, 72).
Booked: Zulfugarli, Asgerov, V. Jafarov - Shamsiev, Odilov, Jaloliddinov, Turdaliev. At 90 + 1 minute excluded Shamsiev.
After the match removed: S. Abdullazada - Roziev.
Referee: Eugene Aranovsky (Ukraine).
May 27. Kiev. Obolon-Arena Stadium.
26.05.2021
Ukraine (U-21) - Azerbaijan (U-21) - 0: 1
27.05.2021
Azerbaijan (U-21) - Uzbekistan (U-21) - 0: 1
28.05.2021
Ukraine (U-21) - Uzbekistan (U-21). Kiev. NTK them. V. Bannikov. 17.00