WU-19: rivals of Ukraine's youth women's national team determined in the first round of Euro-2023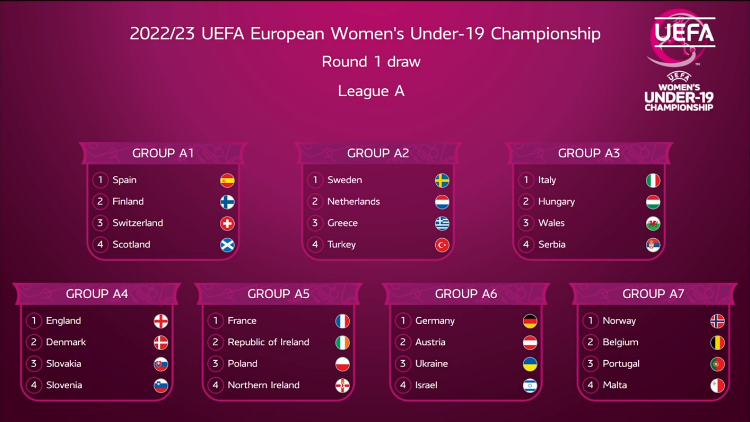 Today, on May 31, in Nyon, Switzerland, during the draw procedure of the first round of the Euro-2022/2023 selection, the youth women's national team of Ukraine WU-19 learned the names of its rivals.
The draw ceremony determined the composition of the groups of both leagues. Ukraine's youth women's national team is in Group A6, where it will play against Germany, Austria and Israel.
League A will feature 28 teams (including eight that have moved from League B following the second qualifying round of the 2021/2022 season, which ended this spring). They were divided into seven groups. The teams of each group will perform in one arena in the format of mini-tournaments.
The fourth-place teams will continue their season in the second round of League B. The seeding of participants before the second round depends on which places in groups the teams will take in the first round. Belgium will also take part in the competition, despite a direct ticket to the finals, which belongs to it as the host.
League B teams (including those relegated from League A in the second round of the 2021/2022 season, as well as the Gibraltar national team, which participates in the UEFA women's tournaments for the first time) will compete for League A in seven groups. The winners of the groups will move to the top division.
After the draw, the hosts of the mini-tournaments will be determined. The matches will take place either from 30/31 August to 5/6 September, or from 4/5 to 11 October, or from 8/9 to 14/15 November this year.
It should be noted that the youth women's national team of Ukraine kept its place in League A, having finished third in their group of the second round of Euro-2022 qualifying.
Euro 2023 (WU-19). The first round of selection
League A
Group A1: Spain, Finland, Switzerland, Scotland.
Group A2: Sweden, Netherlands, Greece, Turkey.
Group A3: Italy, Hungary, Wales, Serbia.
Group A4: England, Denmark, Slovakia, Slovenia.
Group A5: France, Ireland, Poland, Northern Ireland.
Group A6: Germany, Austria, Ukraine, Israel.
Group A7: Norway, Belgium, Portugal, Malta.
League B
Group B1: Croatia, Azerbaijan, Montenegro, Cyprus.
Group B2: Romania, Latvia, Albania, Armenia.
Group B3: Iceland, Lithuania, Faroe Islands, Liechtenstein.
Group B4: Bosnia and Herzegovina, Moldova, Estonia.
Group B5: Bulgaria, Kosovo, Gibraltar.
Group B6: Belarus, North Macedonia, Georgia.
Group B7: Czech Republic, Andorra, Kazakhstan.