League of Europe. "Dynamo" in Krakow conceded to the Cypriot AEK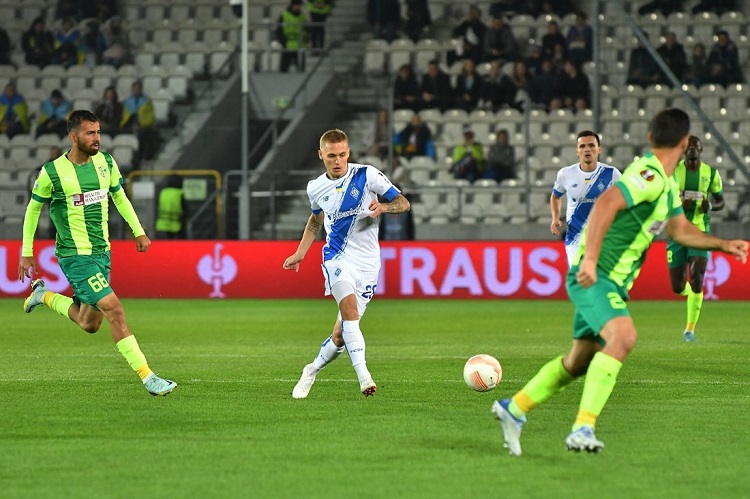 Dynamo Kyiv continues to remain scoreless in the group round of the Europa League, losing to Cypriot AEK Larnaca.
After the defeat in Istanbul against "Fenerbahce" (1:2) white and blue hosted AEK, which in August in the play-off round of the Europa League knocked out Ukrainian "Dnipro-1". Due to the Russian military invasion, the Dynamo team is forced to play home European Cup matches in Poland. However, if the Kyiv team played in Łódź in the Champions League qualifiers, then in the Europa League they will host their opponents in Kraków. It should be noted that today Mircea Lucescu could not count on the injured Shaparenko, Bushchan and Popov.
Unfortunately, the Cypriots took the lead already in the 8th minute - Gyurcho made a great free kick. Interestingly, the Hungarian also scored against "Dnipro-1" in the playoff round. Later, Bujalski, after passing Dubinchak, managed to send the ball into the far corner of Pirych's goal, but the referees canceled the goal after reviewing the replay, recording Vladyslav's offside. Before the break in Kyiv, we can note Harmash's inaccurate attempt after a corner and Sydorchuk's long shot into the area from a rebound.
In the second half, AEK played by score, and Dynamo could not find the keys to the opponent's goal. Sirota distinguished himself with two inaccurate shots. Olatunji scored for the Cypriots. However, in the end the score did not change, so the white and blue lost in the Europa League for the second time in a row.
In the Dynamo team, players called up for the next national team meeting took part in the match: Zabarny, Sydorchuk (yellow card), Tsygankov, Karavaev (substituted in the 68th minute).
League of Europe. Group round. Group B
2 round
Dynamo (Ukraine) — AEK (Cyprus) — 0:1 - 0:1
Goal: Gyurcho (8).
Dynamo: Boyko, Kendzora (Karavaev, 68), Zabarny, Syrota, Dubinchak, Tsygankov, Sydorchuk (k), Andrievsky (Shepelev, 68), Kabaev (Vanat, 84), Buyalskyi, Garmash (Besedin, 46).
Substitutions: Ignatenko, Vivcharenko, Burda, Parris, Yatsyk, Kravchenko, Tymchyk, Tsarenko.
Head coach: Mircea Lucescu.
AEK: Pyric, Kipros, Milicevic, Tomovic, Garcia, Pons (Naum, 73), Mamas (Oyer, 64), Gyurcho (Englezu, 77), Altman, Trichkovski (k) (Gustavu, 64), Olatunji (Lopez, 73).
Substitutions: Gordych, Tumbas, Gonzalez, Farage, Rosales, Andreu.
Head coach: Jose Luis Oltra.
Referee: Jacob Kehlet (Denmark).
Booked: Andrievskyi (35), Sydorchuk (76) — Garcia (42), Mamas (44), Pons (64), Pyrich (83).
September 15. Krakow Stadium "Krakowia" named after Yu. Pilsudskyi.
"Rennes" (France) - "Fenerbahçe" (Turkey) - 2:2 - 0:0
Standings
| | | | | | | |
| --- | --- | --- | --- | --- | --- | --- |
| | G | W | D | L | GD | P |
| 1. Rennes | 2 | 1 | 1 | 0 | 4-3 | 4 |
| 2. Fenerbahce | 2 | 1 | 1 | 0 | 4-3 | 4 |
| 3. AEK | 2 | 1 | 0 | 1 | 2-2 | 3 |
| 4. Dynamo | 2 | 0 | 0 | 2 | 1-3 | 0 |
3 round
06.10.2022
"Fenerbahce" - AEK (22.00)
Rennes - Dynamo (22.00)