Conference League. "Dnipro-1" in Kosice failed to beat "Vadutz" from Liechtenstein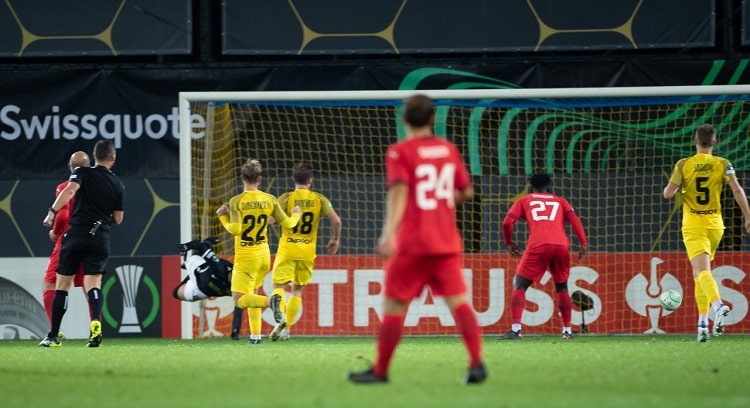 In the 3rd round of the Conference League group tournament, Ukrainian "Dnipro-1" played a draw with Liechtenstein "Vadutz" in Kosice, Slovakia.
In the previous rounds, Oleksandr Kucher's wards lost to AZ (0:1) and beat "Apollo" (3:1). Now the Dnipro was waiting for a match with "Vadutz" - the first ever representative of Liechtenstein in the group stages of European Cups. Due to the Russian invasion, the black and yellow were forced to host their opponent in Slovakian Kosice.
The Ukrainians took the lead already in the 5th minute: Pikhalyonok intercepted the ball near someone else's penalty area, then Busanello shot through, and Dovbyk closed. However, "Vaduts" managed to recover after a failure in the defense of "Dnipro-1" - Fehr completed Ulrich's pass on the fly. Not long before the break, the teams exchanged moments: Walef beat Fosa, who went face-to-face, and Busanello, from a pass from Pihalyonka, beat Shande with a close-range shot.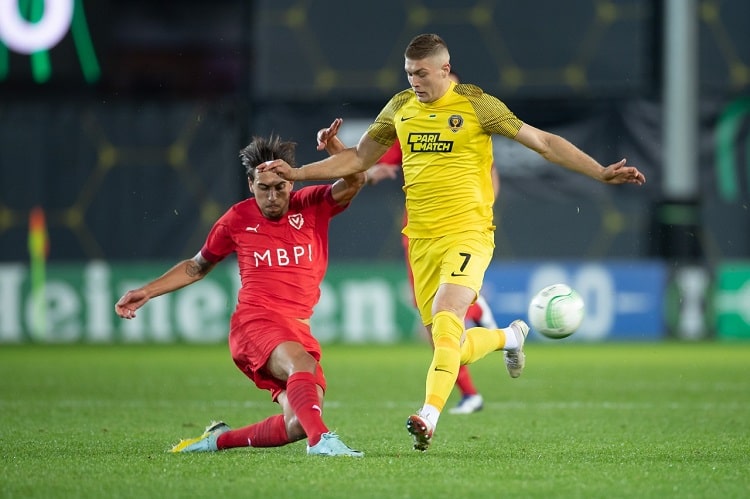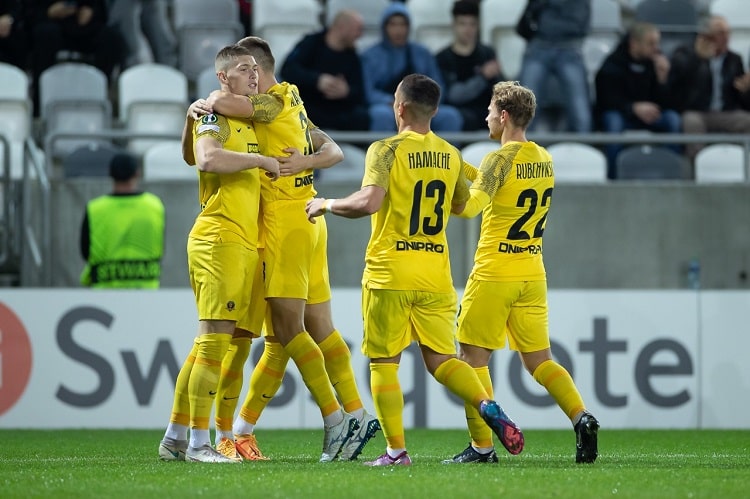 Photo by scdnipro1.com.ua
At the beginning of the second half, the representatives of Liechtenstein took the lead - Gasser headed Gaich's feed from a corner. After that, the people of Dnipro could not recover for a long time, moreover, Valef had to be rescued after a blow from Fer. The Ukrainians responded with Dovbyk's shot next to the post after Pikhalyonek's corner kick.
Later, Valef had to enter the game again, as Hasler made a dangerous effort from a distance. However, in the 77th minute, the Dnipro team equalized - Pikhalyonok outplayed Dovbyk and sent the ball into the net with a ricochet from the penalty line.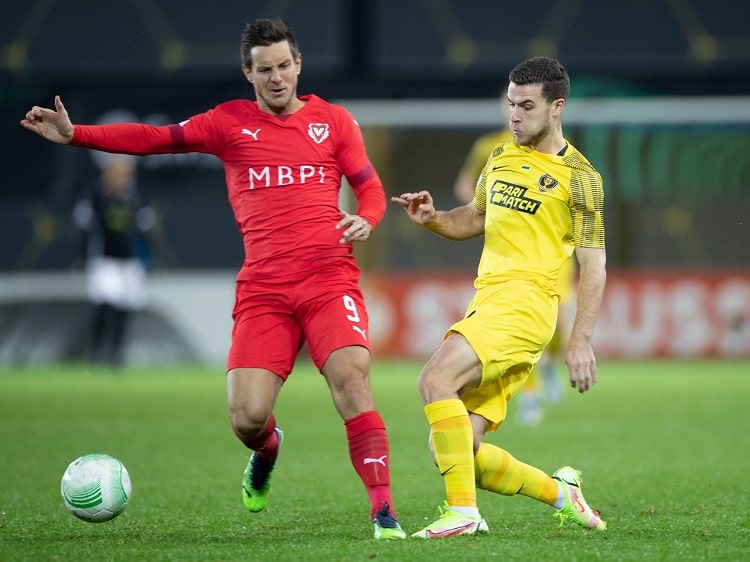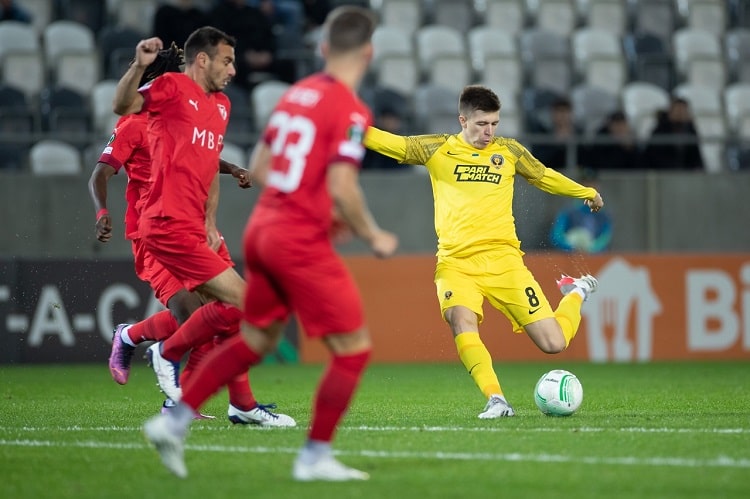 Photo by scdnipro1.com.ua
Pikhalyonok could have scored a double soon after, but Shande managed his shot from the penalty area, which again did not go without a ricochet. The Dnipro team tried to organize a final assault, had a goal-scoring opportunity in the time added by the referee, but did not manage to win - 2:2.
As part of "Dnipro-1", the players who were called up for the last training session of the national team took part in the match: Sarapiy, Pikhalyonok (goal), Dovbyk (goal, goal assist).
Conference League. Group round. Group E
3 round
"Dnipro-1" (Ukraine) — "Vadutz" (Liechtenstein) — 2:2 (1:1)
Goals: Dovbyk (5), Pikhalyonok (77) — Fer (26), Gasser (47).
"Dnipro-1": Valef, Adamyuk (Blanko, 46), Sarapiy, Svatok (k), Buzanello, Babenko, Rubchinsky (Gromov, 62), Hutsuliak (Luchkevich, 46, Tanchyk, 50), Pikhalyonok, Amash (Gorbunov, 46), Dovbyk.
Substitutions: Rybak, Yurchuk, Kononov, Baluli, Loginov, Kogut, Nazarenko.
Head coach: Alexander Kucher.
"Vaduc": Schande, Gasser, Isik, Traber, Ulrich, Fosso, Hajic (k) (Gasler, 72), Fehr (Gelser, 90+2), Cicek (Djokic, 72), Sasere (Rastoder, 72), Zutter (Omerovic, 82 ).
Substitutions: Fozer, Eri, Hadji, Iodiche, Luchinger, Dzemaili, Dobras.
Head coach: Alessandro Manjarratti.
Referee: Fran Jovic (Croatia).
Booked: Blanco (65), Svatok (90+4) — Fosso (67), Jokic (83), Omerovic (87).
October 6. Kosice Košice Football Arena Stadium.
AZ (Netherlands) — "Apollon" (Cyprus) — 3:2 (1:1)
Standings
| | | | | | | |
| --- | --- | --- | --- | --- | --- | --- |
| | G | W | D | L | GD | P |
| 1. AZ | 3 | 3 | 0 | 0 | 8-3 | 9 |
| 2. Dnipro-1 | 3 | 1 | 1 | 1 | 5-4 | 4 |
| 3. Vaduz | 3 | 0 | 2 | 1 | 3-6 | 2 |
| 4. Apollo | 3 | 0 | 1 | 2 | 3-6 | 1 |
4 round
13.10.2022
"Apollon" — AZ 19.45
"Vaduc" — Dnipro-1 22.00