UEFA table of coefficients: Ukraine went to the winter European Cup break in 16th place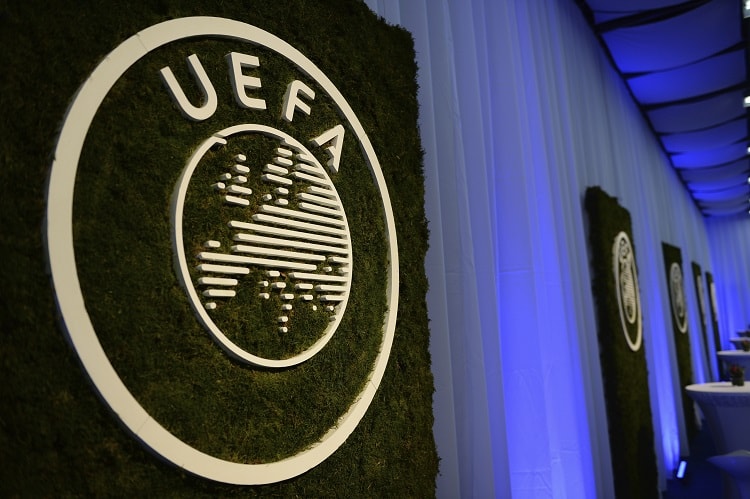 In the five-year cycle 2018/2019—2022/2023, Ukraine currently ranks 16- that position.
We will remind you that five domestic clubs took part in the start of the 2022/2023 season, and three of them have already stopped fighting — Dynamo relegated from the Europa League, and Vorskla й Zorya Luhansk relegated from the Conference League.
This week, Ukraine did not take anything at all — Shakhtar lost to Leipzig (0:4) in the Champions League, Dynamo lost to Fenerbahce (0:2) in the Europa League, and Dnipro-1 lost to AZ (1 :2) in the Conference League.
In total, Shakhtar has 9 points (including four bonuses for a place in the group stage of the Champions League), Dnipro-1 has 8 (with one bonus for reaching the LC playoffs), Dynamo has 4,5, " Zorya" and "Vorskla" took one each. Thus, Ukraine finished with 23,5 points or 4,7 points before the winter break (23,5:5).
We remind you that the minimum strategic task for Ukraine is a place in the top 15 of the table of coefficients, because for a lower position, the associations lose one quota in the Champions League and delegate four clubs to the European Cups. But, unfortunately, on Thursday, Ukraine dropped to the 16th line and will try to rise above the waterline already in the spring with the efforts of "Shakhtar" in LE and "Dnipro-1" in LC.
Turkey collected an incredible harvest in one day — 2,400 points and now it will fight with four clubs in the playoffs for a place in the top ten, Switzerland added 0,750, the Czech Republic — 0,500, Norway, like us, was left with a sheep.
Therefore, Ukraine is currently in 16th place and is behind 15th Norway by 0,250 points (2 points), 14 (0,550) from 3th Czech Republic, and 13 (0,675) from 4th Switzerland. At the same time, we are ahead of Denmark by 0,875 (5). The dispute for a place in the top 15 will continue between these five countries. It is pleasing that the Czech Republic lost all its representatives, instead, in Norway and Switzerland, Bude-Glimt and Basel remained in the LC, and in Denmark, Midtjylland remained in the LE.
This table forms a representation for the 2024/2025 European Cup season, in which, we remind you, the planned change of the system of group rounds to the Swiss one with an increase in the number of participants to 36. The overall representation from the associations and the starting grid for all three tournaments have yet to be approved by UEFA.
From the UEFA Coefficient table
| | | | 18/19 | 19/20 | 20/21 | 21/22 | 22/23 | Sumy | Clubs |
| --- | --- | --- | --- | --- | --- | --- | --- | --- | --- |
| 1 | | England | 22.642 | 18.571 | 24.357 | 21.000 | 16.571 | 103.141 | 7/7 |
| 2 | | Spain | 19.571 | 18.928 | 19.500 | 18.428 | 12.428 | 88.855 | 6/7 |
| 3 | | Germany | 15.214 | 18.714 | 15.214 | 16.214 | 13.750 | 79.106 | 7/8 |
| 4 | | Italy | 12.642 | 14.928 | 16.285 | 15.714 | 11.928 | 71.497 | 7/7 |
| 5 | | France | 10.583 | 11.666 | 7.916 | 18.416 | 10.916 | 59.497 | 5/6 |
| 6 | | Netherlands | 8.600 | 9.400 | 9.200 | 19.200 | 10.300 | 56.700 | 4/5 |
| 7 | | Portugal | 10.900 | 10.300 | 9.600 | 12.916 | 10.000 | 53.716 | 4/6 |
| 8 | | Belgium | 7.800 | 7.600 | 6.000 | 6.600 | 10.600 | 38.600 | 4/5 |
| 9 | | Scotland | 6.750 | 9.750 | 8.500 | 7.900 | 3.500 | 36.400 | 0/5 |
| 10 | | Austria | 6.200 | 5.800 | 6.700 | 10.400 | 4.500 | 33.600 | 1/5 |
| 11 | | Serbia | 6.000 | 6.000 | 5.500 | 9.500 | 4.875 | 31.875 | 1/4 |
| 12 | | Turkey | 5.500 | 5.000 | 3.100 | 6.700 | 10.800 | 31.100 | 4/5 |
| 13 | | Switzerland | 3.900 | 6.400 | 5.125 | 7.750 | 6.000 | 29.175 | 1/4 |
| 14 | | Czech Republic | 6.500 | 2.500 | 6.600 | 6.700 | 6.750 | 29.050 | 0/4 |
| 15 | | Norway | 5.375 | 3.750 | 6.500 | 7.625 | 5.500 | 28.750 | 1/4 |
| 16 | | Ukraine | 5.600 | 7.200 | 6.800 | 4.200 | 4.700 | 28.500 | 2/5 |
| 17 | | Denmark | 4.875 | 5.125 | 4.125 | 7.800 | 5.700 | 27.625 | 1/5 |