2019: results of the year for U-18/19 youth team of Ukraine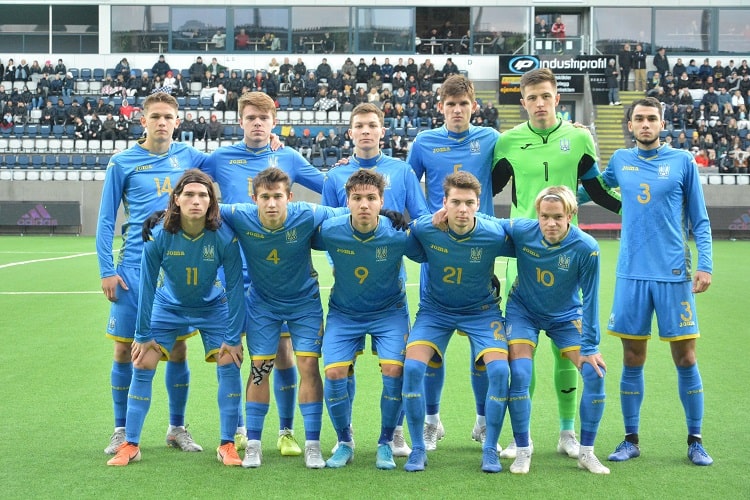 Results of friendly matches and May games Cup of Slovakia for the youth team of Ukraine, made up of players born in 2001, were not very optimistic.
Although it was necessary to take into account Oleg Kuznetsov's problems with the squad, he managed to collect all the strongest players of this generation only in November - at the match of the first round of Euro-2020 selection.
The main problem of the coaches of the Ukrainian national teams is that Dynamo and Shakhtar gradually collect almost all the strongest and most promising football players, and when even one of these clubs cannot release their players to the national team, the result is a weak team. in the personnel question of interest by 30-40. It is good that at least the Carpathians always release their performers.
But the official matches of clubs can not release football players. And the result came out appropriate - first place in the first stage selection for Euro-2020 (U-19).
We will add that in the elite round, Kuznetsov's wards will have to win first place in the group (and a pass to the final tournament to be held in Northern Ireland) with teams from England, Denmark and Latvia.
Youth team of Ukraine U-18/19 in 2019
U-18 matches
| | | | | |
| --- | --- | --- | --- | --- |
| date | Status | Opponent | Score | Goals |
| 21.03.2019 | sociable | Bulgaria | 0:3 | |
| 23.03.2019 | sociable | Bulgaria | 0:1 | |
| 30.04.2019 | sociable | Turkey | 1:0 | Melnychuk |
| 02.05.2019 | sociable | Turkey | 0:1 | |
| 20.05.2019 | Slovakia Cup | Czech Republic | 2:0 | Horny, Danylyuk |
| 21.05.2019 | Slovakia Cup | Spain | 1:2 | Litvinenko |
| 23.05.2019 | Slovakia Cup | Croatia | 0:0 | |
| 24.05.2019 | Slovakia Cup | Russia | 0:1 | |
U-19 matches
| | | | | |
| --- | --- | --- | --- | --- |
| date | Status | Opponent | Score | Goals |
| 06.09.2019 | sociable | Romania | 2:2 | Voloshin, Nadolsky |
| 08.09.2019 | sociable | Romania | 1:3 | Mountain |
| 08.10.2019 | sociable | Greece | 2:1 | Yakuba, Gorny |
| 10.10.2019 | sociable | Greece | 0:0 | |
| 13.11.2019 | Euro-2020 (selection) | Estonia | 4:0 | M. Mudryk, Shulyanskiy, Sikan, Girny |
| 16.11.2019 | Euro-2020 (selection) | Slovenia | 1:1 | Voloshin |
| 19.11.2019 | Euro-2020 (selection) | Sweden | 2:1 | Sikan (2) |
Team composition
| | | | | | |
| --- | --- | --- | --- | --- | --- |
| Goalkeepers | Date of birth | Club | Games | Minutes | Goals |
| | 14.02.2001 | Karpaty | 7 | 510 | 6c |
| | 01.08.2001 | Shakhtar | 5 | 450 | 4c |
| | 10.08.2001 | Dynamo | 3 | 260 | 5c |
| | 12.01.2001 | Arsenal | 1 | 90 | 1c |
| Defenders | Date of birth | Club | Games | Minutes | Goals |
| | 17.01.2001 | Karpaty | 15 | 1151 | 0 |
| | 23.04.2001 | Shakhtar | 11 | 726 | 1 |
| | 20.03.2001 | Karpaty | 9 | 693 | 0 |
| | 06.07.2001 | Karpaty | 8 | 513 | 1 |
| | 01.01.2001 | Zorya Luhansk | 8 | 449 | 0 |
| | 22.05.2001 | Dynamo | 7 | 549 | 0 |
| | 12.03.2001 | Shakhtar | 6 | 302 | 0 |
| | 21.04.2001 | Shakhtar | 5 | 269 | 0 |
| | 19.04.2001 | Dynamo | 5 | 164 | 0 |
| | 30.06.2001 | Slovan (Czech Republic) | 4 | 344 | 0 |
| | 05.02.2001 | Dynamo | 4 | 315 | 0 |
| | 09.01.2001 | Dnipro | 4 | 270 | 0 |
| | 26.05.2001 | Shakhtar | 1 | 90 | 0 |
| | 13.05.2001 | Mariupol. | 1 | 45 | 0 |
| Midfielders | Date of birth | Club | Games | Minutes | Goals |
| | 02.07.2001 | Karpaty | 10 | 555 | 0 |
| | 07.01.2001 | Shakhtar | 9 | 542 | 0 |
| | 10.04.2001 | Dnipro-1 | 8 | 501 | 1 |
| | 19.01.2001 | Karpaty | 8 | 389 | 1 |
| | 05.03.2002 | Dnipro-1 | 7 | 476 | 0 |
| | 04.01.2001 | Arsenal | 6 | 411 | 0 |
| | 17.04.2001 | Dynamo | 6 | 405 | 2 |
| | 18.08.2001 | Shakhtar | 6 | 322 | 0 |
| | 11.04.2001 | Dynamo | 5 | 351 | 1 |
| | 21.06.2001 | Dynamo | 5 | 334 | 0 |
| | 01.03.2001 | Dynamo | 5 | 229 | 1 |
| | 15.05.2001 | Obolon-Brovar, Kolos | 5 | 182 | 0 |
| | 10.07.2001 | Stumbras (Lithuania) | 4 | 281 | 0 |
| | 27.07.2001 | Dnipro | 4 | 218 | 0 |
| | 25.01.2001 | Obolon-Brovar | 4 | 159 | 0 |
| | 05.01.2001 | Shakhtar | 3 | 270 | 1 |
| | 26.12.2001 | Karpaty | 3 | 186 | 0 |
| | 22.05.2001 | Dynamo | 2 | 116 | 0 |
| Forwards | Date of birth | Club | Games | Minutes | Goals |
| | 06.04.2001 | Karpaty | 9 | 481 | 4 |
| | 16.04.2001 | Shakhtar | 5 | 395 | 3 |
| | 08.01.2001 | Shakhtar | 4 | 258 | 0 |
| | 17.08.2001 | Shakhtar | 3 | 127 | 0 |
| | 18.05.2001 | Vorskla | 3 | 55 | 0 |
| | 23.04.2001 | Dynamo | 2 | 102 | 0 |
| Eric SHURANOV | 20.08.2002 | Nurnberg (Germany) | 1 | 45 | 0 |
| Coach | Date of birth |   | Games |   |   |
| Oleh KUZNETSOV | 22.03.1963 | | 15 | | |