Ruslan Rotan announced the squad of Ukraine U-XNUMX for the matches against Denmark and Finland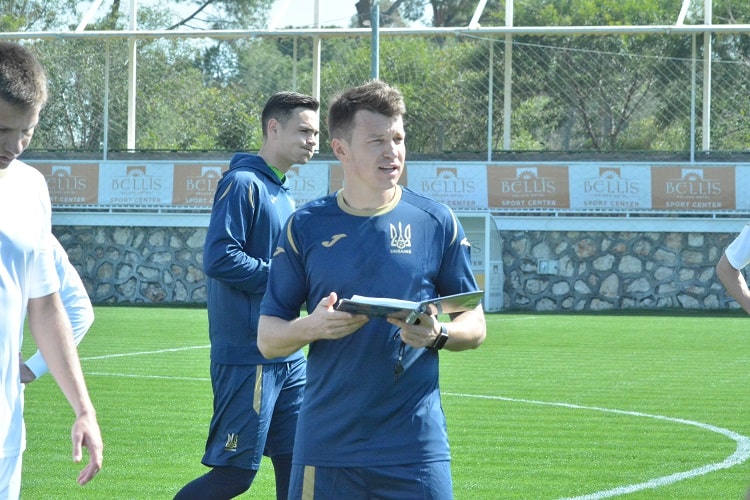 The list of players of the youth national team of Ukraine U-21, called up for training and participation in qualifying away matches of the European Championship-2021 against Denmark (September 4) and Finland (September 8) has been announced.
The gathering of Ruslan Rotan's team, which includes 24 players, will begin on August 28.
The squad of Ukraine U-XNUMX:
Goalkeepers: Dmytro Riznyk (Vorskla Poltava), Oleh Bilyk (Oleksandriya), Anatolii Trubin (Shakhtar Donetsk).
Defenders: Yukhym Konoplya (Desna Chernihiv), Danil Skorko, Oleksandr Syrota, Ilya Zabarnyi (all - Dynamo Kyiv), Vladyslav Dubinchak (Dnipro-1, Dnipro), Yevhen Cheberko (LASK, Austria), Vladyslav Babohlo (Oleksandriya).
Midfielders: Heorhii Tsitaishvili, Serhii Buletsa, Bohdan Lyednyev (all - Dynamo Kyiv), Arsenii Batahov, Oleksandr Nazarenko (both - Dnipro-1, Dnipro), Maksym Lunyov (Zorya Luhansk), Yevhen Smyrnyi (Kolos Kovalivka ), Maksym Chekh, Oleksii Kashchuk, Dmytro Topalov (all - Mariupol), Viktor Korniyenko, Artem Bondarenko (both - Shakhtar Donetsk).
Forwards: Eric Shuranov (Nurnberg, Germany), Danylo Sikan (Shakhtar Donetsk).
The new format of the European Championship-2019/2021 U-21
Qualifying stage
The group tournament is extended until November 2020, and the play-offs are canceled. The nine groups winners and the five best second-placed teams will advance to the finals, joining the hosts of the competition - Hungary and Slovenia.
The final group stage
The group tournament, which is scheduled for the end of November this year, will be held in the same format - in four groups with four teams. These matches will be played on March 24-31, 2021.
The winners of the groups and teams that take second place qualify for the playoffs. Competitions in groups A and C will be hosted by Hungary, in group B - Slovenia. Group D will play either in Slovenia or in one of the countries that will play in this group.
Final playoff
Competitions at this stage of the tournament will be held in Hungary and Slovenia from May 31 to June 6, 2021. Each of the countries will host two quarterfinals and one semifinal. Slovenia will host the final match.
Tournament situation for Ukraine U-21 team
Our team in qualifying group 8 has to spend six matches: with Malta on the road, Northern Ireland at home, Denmark and Finland on the road, Romania at home and Northern Ireland on the road.
Ruslan Rotan's team currently ranks fourth in the group.
Euro-2021 (U-21). Qualifying Tournament. Group 8
Standings
| | | | | | | | |
| --- | --- | --- | --- | --- | --- | --- | --- |
| | | І | В | Н | П | М | О |
| 1. | Denmark | 5 | 5 | 0 | 0 | 13-5 | 15 |
| 2. | Romania | 5 | 3 | 1 | 1 | 11-3 | 10 |
| 3. | Finland | 5 | 2 | 1 | 2 | 8-6 | 7 |
| 4. | Ukraine | 4 | 1 | 0 | 3 | 6-8 | 3 |
| 5. | Northern Ireland | 5 | 0 | 3 | 2 | 2-6 | 3 |
| 6. | Malta | 4 | 0 | 1 | 3 | 1-13 | 1 |