2020: results of the year for Ukraine U-21 team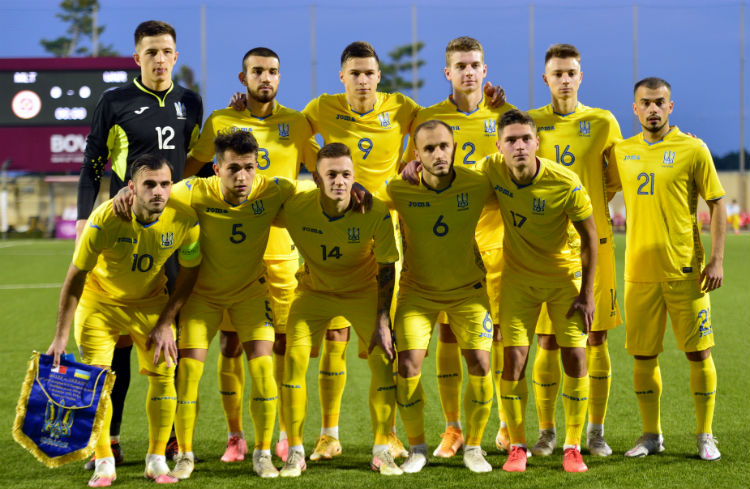 The youth national team of Ukraine in 2020 had to limit itself to autumn matches.
The rest of the program was canceled by a pandemic, due to which, since March, the youth national teams have not played a single match. And Ruslan Rotan's team has logically completed the Euro 2021 (U-21) qualifying round.
It turned out like the previous cycles of Ukraine U-2019 - not the best, not the worst. Although we did not have any top rivals (such as England, France, Germany or Spain) this time. But the losses at the start of the selection, which took place in the autumn of XNUMX, could not be compensated. And the Ukrainian team finished third in the group for the fourth time in the last five cycles.
If we take the matches of 2020 separately, then there was only one failure - in Northern Ireland. Rotan's wards won four more matches, in one - with Denmark - they conceded a goal with a foul against goalkeeper Oleh Bilyk in the 95th minute.
At the same time, it should be noted that the there was no team's backbone in 2020 due to various reasons (coronavirus pandemic, injuries, invitation to the national team). At least half of the playing time (270 minutes) was spent by only seven of them: goalkeeper Anatolii Trubin, defenders Vladyslav Dubinchak and Oleksandr Syrota, midfielders Serhii Buletsa, Arsenii Batahov, Artem Bondarenko and forward Danylo Sikan.
It will be recalled that Vitalii Mykolenko, Andrii Lunin and Mykola Shaparenko have been members of the national team of Ukraine for a long time. And in 2020 they were joined by Illya Zabarnyi, Yukhym Konoplya, Yevhen Cheberko and Valerii Bondar. And 18-year-old Zabarnyi became one of the youngest debutants in the history of the main team of the country. In the youth team, by the way, in 2020 there was also a player who almost set a new record among young debutants - 16-year-old Yehor Yarmolyuk.
In general, the coaches involved a large number of players born in 2000 and younger, who will make up the youth national team of Ukraine to participate in the next qualifying round - Euro-2023 (U-21). Its final part is planned to be held simultaneously in Romania and Georgia.
Matches of the youth national team of Ukraine U-21 2020
| | | | | |
| --- | --- | --- | --- | --- |
| date | Status | Opponent | Score | Authors of the heads of Ukraine |
| 04.09.2020 | Euro-2021 (selection) | Denmark | 1:1 | Sikan |
| 08.09.2020 | Euro-2021 (selection) | Finland | 2:0 | Konoplya, Sikan |
| 09.10.2020 | Euro-2021 (selection) | Romania | 1:0 | Buletsa |
| 13.10.2020 | Euro-2021 (selection) | Northern Ireland | 0:1 | |
| 13.11.2020 | Euro-2021 (selection) | Malta | 4:1 | Kukharevych (2), Milovanov, Shevtsov |
| 17.11.2020 | Euro-2021 (selection) | Northern Ireland | 3:0 | Babohlo, Isayenko, Kukharevych |
Personnel potential of the youth national team of Ukraine U-21 2020
| | | | | | |
| --- | --- | --- | --- | --- | --- |
| Goalkeepers | D.B. | Club | Games | Minutes | Goals |
| Anatolii TRUBIN | 01.08.2001 | Shakhtar | 4 | 360 | 2c |
| Oleh BILYK | 11.01.1998 | Oleksandriya | 1 | 90 | 1c |
| Dmytro RIZNYK | 30.01.1999 | Vorskla | 1 | 90 | 0c |
| Defenders | D.B. | Club | Games | Minutes | Goals |
| Vladyslav DUBINCHAK | 01.07.1998 | Dnipro-1 | 6 | 500 | 0 |
| Oleksandr SYROTA | 11.06.2000 | Dynamo | 3 | 270 | 0 |
| Roman VANTUKH | 04.07.1998 | Oleksandriya | 3 | 190 | 0 |
| Vladyslav BABOHLO | 14.11.1998 | Oleksandriya | 2 | 180 | 1 |
| Illya ZABARNYI | 01.09.2002 | Dynamo | 2 | 180 | 0 |
| Yukhym KONOPLYA | 26.08.1999 | Chernihiv | 2 | 180 | 1 |
| Denys POPOV | 17.02.1999 | Dynamo | 2 | 180 | 0 |
| Yevhen CHEBERKO | 23.01.1998 | LASK (Austria) | 2 | 180 | 0 |
| Volodymyr YAKIMETS | 03.03.1998 | Lviv | 2 | 180 | 0 |
| Danil SKORKO | 06.04.2002 | Dynamo | 1 | 90 | 0 |
| Ihor SNURNITSYN | 07.03.2000 | Donetsk | 1 | 90 | 0 |
| Orest LEBEDENKO | 23.09.1998 | Donetsk | 1 | 75 | 0 |
| Tymur STETSKOV | 27.01.1998 | Oleksandriya | 1 | 45 | 0 |
| Viktor KORNIYENKO | 14.02.1999 | Shakhtar | 1 | 27 | 0 |
| Bohdan MILOVANOV | 19.04.1998 | Sporting (Spain) | 1 | 27 | 1 |
| Midfielders | D.B. | Club | Games | Minutes | Goals |
| Serhiy BULETSA | 16.02.1999 | Dnipro-1 | 5 | 436 | 1 |
| Oleksandr NAZARENKO | 01.02.2000 | Dnipro-1 | 5 | 246 | 0 |
| Arsenii BATAHOV | 05.03.2002 | Dnipro-1 | 4 | 358 | 0 |
| Artem BONDARENKO | 21.08.2000 | Mariupol. | 4 | 307 | 0 |
| Dmytro TOPALOV | 12.03.1998 | Mariupol. | 4 | 195 | 0 |
| Georgii TSYTAISHVILI | 18.11.2000 | Dynamo | 4 | 191 | 0 |
| Maksym CHEKH | 03.01.1999 | Mariupol. | 4 | 61 | 0 |
| Maxym LUNYOV | 22.05.1998 | Zorya Luhansk | 3 | 128 | 0 |
| Volodymyr BRAZHKO | 23.01.2002 | Dynamo | 2 | 176 | 0 |
| Yehor YARMOLYUK | 01.03.2004 | Dnipro-1 | 2 | 95 | 0 |
| Bohdan LYEDNYEV | 07.04.1998 | Dynamo | 2 | 24 | 0 |
| Georgii SUDAKOV | 01.09.2002 | Shakhtar | 1 | 71 | 0 |
| Andrii KRAVCHUK | 26.02.1999 | Donetsk | 1 | 13 | 0 |
| Bohdan BILOSHEVSKYI | 12.01.2000 | Dynamo | 1 | 4 | 0 |
| Oleksii KASHCHUK | 29.06.2000 | Mariupol. | 1 | 1 | 0 |
| Mykola MYKHAILENKO | 22.05.2001 | Dynamo | 1 | 1 | 0 |
| Forwards | D.B. | Club | Games | Minutes | Goals |
| Danylo SIKAN | 16.04.2001 | Mariupol. | 4 | 307 | 2 |
| Illya SHEVTSOV | 13.04.2000 | Chernihiv | 4 | 76 | 1 |
| Mykola KUKHAREVYCH | 01.07.2001 | Rukh | 2 | 149 | 3 |
| Yevhen ISAYENKO | 07.08.2000 | Kolos | 2 | 117 | 1 |
| Danylo KRAVCHUK | 02.07.2001 | Vorskla | 2 | 23 | 0 |
| Nazarii RUSYN | 25.10.1998 | Dynamo | 1 | 27 | 0 |
| Coach | D.B. | | Games | | |
| Ruslan Rotan | 29.10.1981 | | 6 | | |