Oleg Kuznetsov: The guys have a great desire to get to the European Championship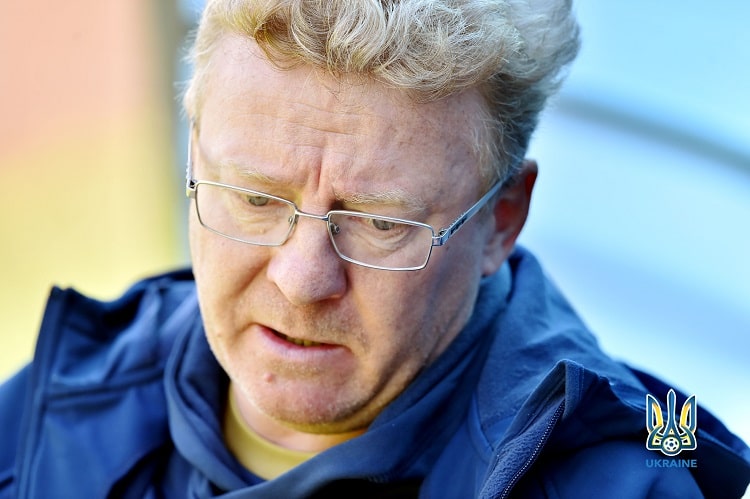 The head coach of the youth national team of Ukraine U-17 (players not older than 2005) Oleg Kuznetsov spoke about the team's preparations for the elite round.
These days the youth national team of Ukraine prepares to the Euro-2022 elite round (U-17), which will be held from April 20 to 26 in Italy. It should be recalled that, in addition to the hosts, the blue-yellows will play against the teams of Kosovo and Poland. On the eve of the start of this tournament, the UAF official website spoke with the head coach of the Ukrainians Oleg Kuznetsov.
- Is everything going according to plan when preparing your team for the elite round?
- In principle, yes. Everything we plan is being done. We work twice a day. I like the physical shape of the guys.
- Did you manage to gather all the players on the list?
- Yes. The 20 performers we are counting on are in line.
- How do you learn the opposition?
- I watched several matches of the national team of Kosovo, but we give the players information in a theoretical session on the eve of the match. And already on the first matchday we will be observing the play of Italians and Poles.
- Is Italy the undisputed leader of our group?
- On paper - yes. Firstly, it is a team with a name, and secondly, the Italians are the hosts of the competition.
- Do your opponents have an advantage over our team, given that Ukrainian footballers did not play official matches?
- Of course. Lack of playing practice is probably the main problem of our team. Despite this, Vladyslav Kravets trained with Bayern. Maksym Derkach was at Atalanta. Andriy Matkevych and Maksym Vasylets worked with Club Brugge. David Fesyuk represents Hajduk. Stepan Lysenko also trained there. We also have two strikers, representing Juventus and AC Milan. I believe that this experience will help the guys to show their best qualities.
- By the way, what are your first impressions of Andriy Firman and Vlad Nahrudnyi?
- There is a small language problem with Vladyslav, so Andriy has to be his translator. The training shows that the guys are trying. We have a lot of conversations with them so that they fit into our ranks as soon as possible. There is still time, but the matches of the tournament will definitely show everything.
- Due to what qualities can our team achieve its goal?
- The war is going on in our land, so we tell the guys that we need to get additional reserves, be more focused, demanding. And the fact that footballers have a great desire to get to the European Championship can be seen from their dedication to training.
Squad of Ukraine U-17
Goalkeepers: David Fesyuk (Haiduk, Croatia), Vladyslav Kravets (Shakhtar Donetsk).
Defenders: Danil Bilokon, Yegor Syzonyuk, Oleksiy Husiev, Nazar Balaba (all - Dynamo Kyiv), Mykola Ogarkov, Maryan Bats (both - Shakhtar Donetsk), Stepan Lysenko (Dnipro).
Midfielders: Dmytro Kremchanin, Nazar Yanchyshyn, Andriy Matkevych, Yevhen Mykytyuk, Maksym Vasylets (all - Dynamo Kyiv), Yevhen Yanovych, Maksym Derkach, Oleksandr Yakymenko (all - Shakhtar Donetsk).
Forwards: Mykyta Dzen (Dynamo Kyiv), Andriy Firman (Juventus, Italy), Vlad Nahrudnyi (Milan, Italy).
Euro-2022 (U-17) elite round
Group 6
20.04.2022
Kosovo - Ukraine 13.00
Italy - Poland 16.00
23.04.2022
Ukraine - Poland 13.00
Italy - Kosovo 16.00
26.04.2022
Ukraine - Italy 16.00
Poland - Kosovo 16.00
The final tournament will take place from May 16 to June 1 in Israel.
Oleg Kuznetsov's wards will compete in Quartet A together with Israel, Germany and Luxembourg in the event of overcoming the elite round of selection in Group 6. If the Ukrainians choose the second place in their four qualifiers, they can get to Group B in France, the Netherlands and Bulgaria. But for this they will need to show a better result than in Hungary, which took second place in Group 1 with one gold point and a goal difference of -2.
Euro 2022 Final Tournament (U-17)
Group A: Israel, Germany, winner of group 6, Luxembourg.
Group B: France, the Netherlands, Bulgaria, Hungary or second team group 6.
Group C: Serbia, Spain, Turkey, Belgium.
Group D: Denmark, Portugal, Scotland, Sweden.
The two best teams from each group will reach the quarterfinals.
Group stage
Round 1: May 16/17.
Round 2: May 19/20.
Round 3: May 22/23.
Quarterfinals: May 25/26.
Semifinals: May 29.
Final: June 1.