Yurii Moroz: "The team did not sit back in defense, but tried to attack, to implement the recorded schemes"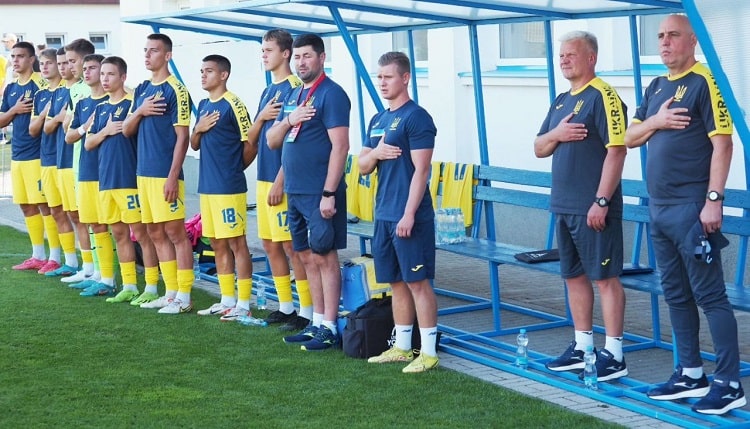 The head coach of the youth national team of Ukraine U-18 Yury Moroz is satisfied with the work of the team at the meeting.
The youth national team of Ukraine U-18 (football players born in 2006) completed the training camp, taking part in the Vaclav Jezek international tournament, which was held in the Czech Republic. The results of the performance of the team, which took third place at the competition, were summarized for the official website of the UAF by the head coach of the blue-yellow team Yuriy Moroz.
"We are satisfied with the work done," said Yuriy Leontiyovych. — I saw that the boys were adding, becoming stronger, better, brighter. The team begins to play more mature football, to think more during the game.
— The defeat in the first match against the Americans is due to the fact that, as you said, we started with of pure sheets?
— This also happened, but in three matches we gave all football players a chance to play, and in episodes with missed balls, there were signs of errors in the individual defensive plan. As it seemed, there was not the mood that the coaching staff was waiting for. Yes, the control of the ball was weak, but over time, little by little, everything fell into place.
— Vladyslav Kal became the best scorer in our teamиN. ANDle he is a midfielder...
- Absolutely true. I am glad that almost all football players of the offensive line managed to distinguish themselves. The team did not sit back in defense, but tried to attack, threaten the goal, and implement the planned schemes.
With the arrival of Serhiy Rebrov as the head coach of the national team, the work vertical of all national teams of Ukraine is disciplining us. A direction has been chosen and we are trying to follow it.
Tournament of Vaclav Jezek-2023 among youth teams U-18
06.09.2023
Czech Republic — Turkey — 3:0
Switzerland — Slovakia — 4:1
08.09.2023
Czech Republic - Slovakia - 6: 0
USA — Switzerland — 1:3
10.09.2023
Turkey — Switzerland — 1:0
Czech Republic — USA — 2:0
Standings
| | | | | | | | |
| --- | --- | --- | --- | --- | --- | --- | --- |
| | | G | W | D | L | GD | P |
| 1. | Czech Republic | 3 | 3 | 0 | 0 | 11-0 | 9 |
| 2. | Switzerland | 3 | 2 | 0 | 1 | 7-3 | 6 |
| 3. | Ukraine | 3 | 2 | 0 | 1 | 7-5 | 6 |
| 4. | USA | 3 | 1 | 0 | 2 | 4-7 | 3 |
| 5. | Turkey | 3 | 1 | 0 | 2 | 1-5 | 3 |
| 6. | Slovakia | 3 | 0 | 0 | 3 | 3-13 | 0 |