Euro-2023 (U-19) from futsal. The youth national team of Ukraine got to know their opponents in the main round of selection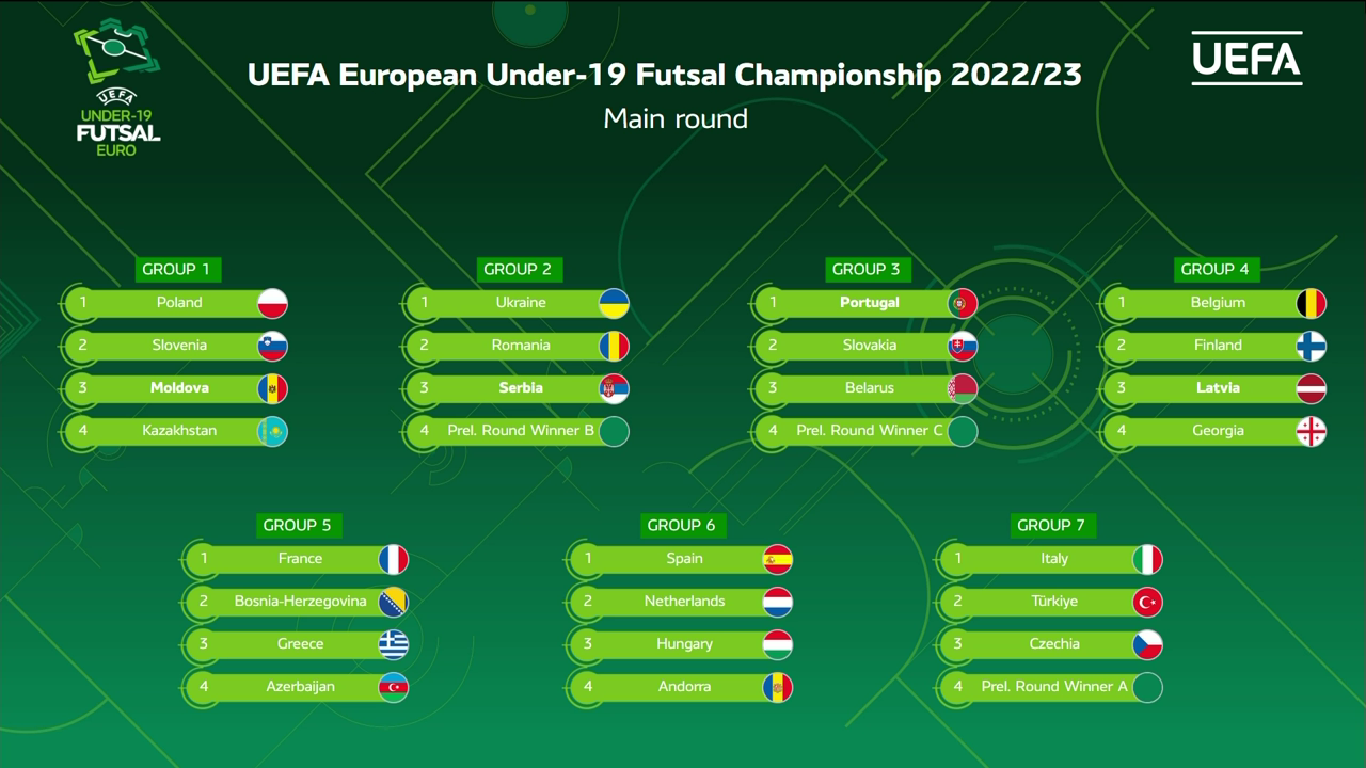 The third draw of the European U19 Futsal Championship will take place in the odd year of 2023, as originally planned. Qualification is scheduled for January and March, the final stage will take place approximately in September.
Today, November 3, the draw for the preliminary and main rounds of the Euro-2023 (U-19) futsal selection took place. According to his results, the youth national team of Ukraine got into group 2 of the main round, where they will meet with Romania, Serbia and the winner of group B of the previous round. Serbia will host the mini-tournament.
Venue of the Euro-2022/2023 final tournament in futsal among young men under 19 years of age was identified Porec (Croatia). In addition to the hosts, the Croatians, seven national teams will play in the final stage, which will be known after the second round of qualification, which will be completed by March 26, 2023. The format of the final tournament will remain the same: eight participants will play in two groups of four teams each, the best two of which will advance to the semifinals.
A record 35 teams will take part in the qualification. National team of Ukraine occupies the fourth step in the rating, so he will start his way from the main round. The 25 highest-ranked national teams and the three winners of the previous round will take part in this stage, forming seven groups of four. Seven winners of mini-tournaments in the main round will advance to the final tournament.
Euro-2023 (U-19) from futsal
Preliminary round
Group A: England, Lithuania*, Estonia, Malta.
Group B: Montenegro, San Marino, Gibraltar*.
Group C: North Macedonia*, Kosovo, Germany.
* — hosts of mini-tournaments.
The main round
Group 1: Poland, Slovenia, Moldova*, Kazakhstan.
Group 2: Ukraine, Romania, Serbia*, winner of group B.
Group 3: Portugal*, Slovakia, Belarus, winner of group C.
Group 4: Belgium, Finland, Latvia*, Georgia.
Group 5: France, Bosnia and Herzegovina, Greece, Azerbaijan.
Group 6: Spain, Netherlands, Hungary, Andorra.
Group 7: Italy, Turkey, Czech Republic, winner of group A.
* — hosts of mini-tournaments.
Euro-2023 (U-19) from futsal. Calendar
Previous round: January 17-22, 2023.
Main round: March 21-26, 2023.
Final stage: September 3-10, 2023 (dates may change).
We will remind you that the debut European Futsal Championship among young men took place in 2019 in Riga, the second draw took place in 2022 in Jaen - both times (2019, 2022) the Spanish team became the champion. The second championship was originally planned for 2021, but was postponed due to the COVID-19 pandemic.
The national team of Ukraine participated in both final tournaments. In 2019, Vitaly Odegova's wards took third place in the group, and in 2022 stopped in the semi-finals.