The coach of the women's beach soccer team of Ukraine, Yuriy Klymenko, named the composition and tasks of the team for Euroleague-2023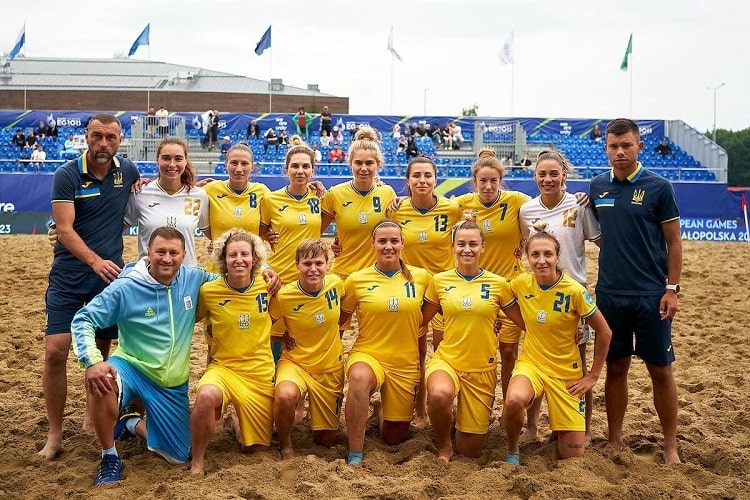 The head coach of the women's beach soccer team of Ukraine, Yuriy Klymenko, announced the team's composition and talked about the tasks facing his wards in the Euroleague 2023 Super Final.
In this year's Super Final of the Euroleague, our girls will play in Group C together with the teams of Portugal and the Netherlands in the group stage. The coach of the blue-yellow team, Yuriy Klymenko, is counting on 10 players at the tournament.
The composition of the women's beach soccer team of Ukraine in the Euroleague 2023 Superfinal
Goalkeepers: Anastasia Terek, Oleksandra Kulyk.
Outfield players: Maria Tikhonova, Yulia Dekhtyar, Yulia Kostyuk, Myroslava Vypasnyak, Olena Kyrylchuk, Anastasia Klipachenko, Iryna Dubytska, Snizhana Volovenko.
The captain of the Ukrainian national team also talked about the tasks facing our team at the tournament.
"We are forced to go to Sardinia with a somewhat incomplete team - 10 girls instead of 12. The fact is that due to the cancellation of the World Beach Games in Bali this year, our players' plans have changed somewhat. We had no right to keep them. Three female athletes have signed contracts in major football here in Ukraine. Two girls went to play futsal in Spain, two - in Portugal, one - in Poland. And those who remained in Kyiv are currently playing in local futsal teams.
Therefore, unfortunately, we will not be able to organize a full training camp on the eve of the Euroleague. But it's good that we fly to Italy three days before the start of the competition, that is, when we all gather there, there will be time to spend some training together and do a preparatory microcycle.
The task before our team is very simple - to win Euroleague medals, and preferably of the highest quality. As for the opponents in the group, the draw for us was quite normal. I believe that we have every chance to reach the semi-finals and fight for medals," said Yuriy Klymenko.
We will remind you that the EuroLeague 2023 Super Final will be held from September 19 to 24 in the Italian Sardinia, in the town of Alghero.
Euroleague-2023. Super final. Women's tournament. Group round
Group A: Italy, the Czech Republic, Sweden.
Group B: Spain, England, Poland.
Group C: Portugal, Ukraine, Netherlands.
The national team of Ukraine will start the tournament on September 21 with a match against the Netherlands, and on the 22nd, the blue and yellow team will play against Portugal. The three winners of the groups and the best of the second-placed teams will advance to the semifinals of the competition.
The men's beach soccer team of Ukraine will not play in the Euroleague 2023 Super Final due to the participation of the Belarusian team with national symbols.