Cyberfootball team of Ukraine has learned the names of its rivals in the European Championship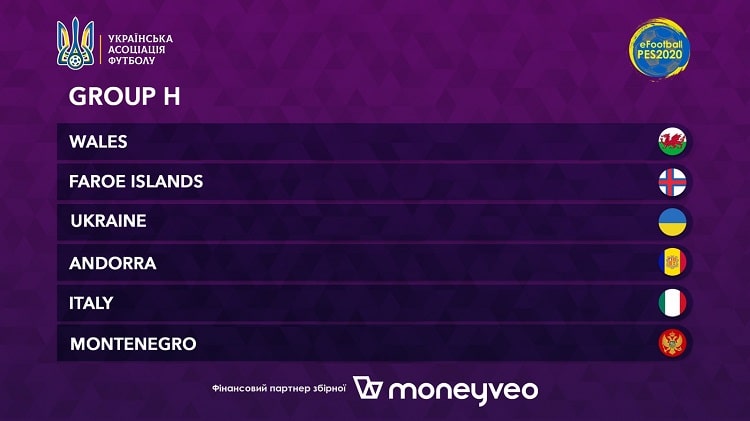 The draw for the qualifying round of the 2020 European Cyber ​​Football Championship took place in Leicester today.
By the will of the draw, the blue-yellows found themselves in group H, where they will compete for a place in2020 with the national teams of Wales, Faroe Islands, Andorra, Italy and Montenegro.
Composition of selection groups for eURO-2020
Group A: England, Serbia, Albania, Spain, Latvia.
Group B: Slovenia, Scotland, Portugal, Romania, Liechtenstein.
Group C: Switzerland, Northern Macedonia, Moldova, Kazakhstan, Bosnia and Herzegovina.
Group D: Slovakia, Greece, Finland, Norway, Azerbaijan.
Group E: Austria, Israel, Iceland, Russia, Poland.
Group F: Kosovo, Georgia, Northern Ireland, Lithuania, Belarus, Luxembourg.
Group G: Hungary, Gibraltar, Turkey, Bulgaria, Estonia, Germany.
Group H: Wales, Faroe Islands, Ukraine, Andorra, Italy, Montenegro.
Group I: Sweden, San Marino, Denmark, Malta, the Netherlands, Ireland.
Group J: Belgium, France, Armenia, Cyprus, Czech Republic, Croatia.
Competitions in qualifying groups will be held in March-May this year. The final tournament among the 16 best teams will take place on July 9-10 in London.
EEuro qualification format online

2020
Group Stage 1. The teams from each group will play each other twice, "at home" and "away". At least two players must compete in each match. That is, if one player participates in a "home" match, the other must play "away". In addition, if the teams consist of three or four players, they must all take part in the matches at least once during the group stage.
Group Stage 2. The winner of each group of the first stage will go directly to the finals of the EURO-2020. The teams that will take the second place in each group will be divided into two new groups of five teams by drawing lots. There they will play each other again "at home" and "away". The participation of players from each team is the same as in group stage 1. The three best teams from each group will advance to the finals of the eEURO-2020.
For victory in each match the team is awarded three points, for a draw - one, for defeat - zero. Given the same number of points scored, the criteria for additional indicators will mirror similar ones at Euro 2020 football.
We will remind that on November 30 in the House of Football the final of national selection to the national team of Ukraine on cyberfootball took place. As a result, the first in the history of the national team in this sport was formed. It includes two main (Marchenko, Litvinov) and two backup (Andrasyuk, Lubczak) players. Manager of blue and yellow became Konstantin Demyanenko.